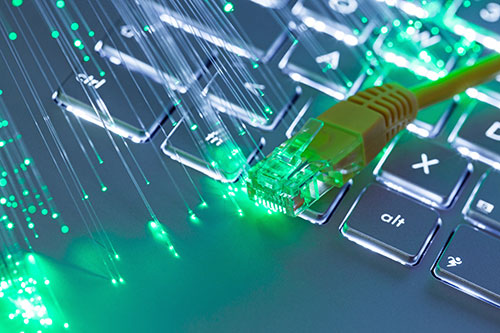 Government announces 100% business rate relief for new full fibre infrastructure in England, in new Telecommunications Infrastructure Bill.
This relief aims to encourage telecoms companies to invest in their fibre network by installing new fibre lines to support the digital infrastructure.
The Telecommunications Infrastructure Bill will benefit both homes and businesses across England by supporting investment in full-fibre broadband and future 5G communications. With 100% rates relief for businesses, the government hopes to encourage operators to invest in the fibre broadband network.
At the 2016 Autumn Statement, the government announced £1 billion of new funding to boost the UK's digital infrastructure. This included investing £400 million in a new Digital Infrastructure Investment Fund to support emerging fibre broadband providers.
The announcement of this new bill builds on this Digital Strategy, in which the government hope to support skills, infrastructure and innovation to help Britain to become a world-leading digital economy.
Improving the speed, service quality, security and reliability of broadband services has the potential to transform the way in which modern businesses work together, reach their consumers and target their export markets.
Businesses aren't the only ones that will benefit from the introduction of this bill. Increasing internet speeds for households will enable efficient use of multiple devices and simultaneous streaming, as well as the ability to download and upload large amounts of data.
The 100% rate relief for new full fibre infrastructure in England will apply for 5 years, backdated to 1 April 2017.
Minister of State for Digital, Matt Hancock said:

"We want Britain to remain the digital world leader that it is, and that means having the right infrastructure in place that will allow us keep up with the rapid advances in technology now and in the future.

We want to see more commercial investment in the gold standard connectivity that full-fibre provides, and the 100% business rate relief and the Digital Infrastructure investment fund will provide a strong incentive for this."
Business broadband from Office Phone Shop
Superfast, reliable business broadband and data lines are an essential part of your business telecommunications.
With a connection speed of 24Mbps, this means faster download and upload times and a super-efficient Wi-Fi network for your organisation.
Office Phone Shop offer a range of packages designed to give your business the flexibility to grow. Regardless of the size of your organisation, we will tailor our cost effective business broadband service to suit your needs.
With Business broadband delivered via various suppliers and a range of routers/combined routers and modems, you get unlimited broadband access and the freedom to increase business broadband as required.
Switching is easy, with no effect on your business operations and with and with a dedicated line manager (no call centres), you are supported at all times. We can even integrate your billing with your fixed business phone line service, saving you time and money.
We assure a high level of service and attention to detail, delivering a secure and reliable internet service for your business.
For more information call 0800 012 6637 and speak to one of our UK Business Managers.