In the 2017 Spring Budget, Chancellor Philip Hammond announced a new government strategy to roll out fibre broadband and 5G coverage.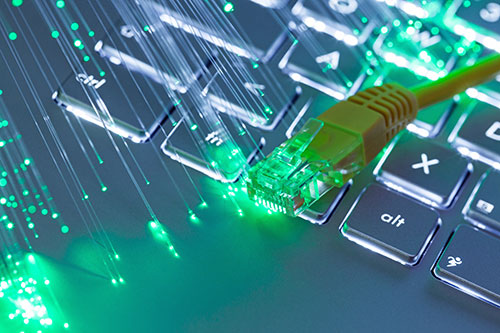 If 5G is to be the next big leap in mobile technology, as predicted, the government hopes to lead the way. This means we need superfast broadband, UK-wide, if we are to succeed with these emerging technologies.
The UK will therefore need to upgrade its 5G infrastructure and as such, Mr Hammond pledged £200m to fund projects that will aim to accelerate market delivery of full-fibre broadband networks.
Budget documents also stated the decision to rerun the broadband voucher scheme to support the building of strategic connections over longer geographic distances. However, concerns lie with the vouchers only being made available where the pure fibre network has already been rolled out. According to Andrew Ferguson, editor of thinkbroadband.com, we need even more investment to deliver high levels of pure fibre coverage across the UK.
Those who live and work in the rural sector say there is still a considerable amount to be done to ensure that everybody who lives and works in rural Britain has access to effective broadband and mobile connectivity.
The Country, Land and Business Association (CLA), an organisation that represents farmers and rural businesses, said it is essential for broadband and mobile connectivity to reach the rural sector in order for businesses to thrive.
CLA's senior economist, Dr Charles Trotman argues the government should focus on improving 3G and 4G before it looks at 5G. He said: "It is obvious that the rural-urban digital divide is still very much in existence, and resolving this must be a priority.

"People are increasingly coming to rely on mobile devices and using technology on the go, and the digital divide puts rural areas at an unfair disadvantage. The government has said it will commit to rolling out 5G coverage, but this is of no comfort for those who still have poor mobile coverage or no coverage at all. Without UK-wide infrastructure, the government's vision for their digital strategy will simply not work."
A recent study from consumer watchdog Which? (alongside OpenSignal), found mobile users could only get 4G coverage 43.7 per cent of time between June and August 2016.
In Wales, the worst region in the UK for mobile 4G signal accessibility, users could only get access to 4G 35.4% of the time. In Scotland, mobile users were able to access a 4G signal 50.4% of the time.
This compares with London where mobile users get access to a 4G signal 69.7% of the time, and Yorkshire and Humberside, where access is 61.3% of the time.
The research also concluded that EE was the company with the most reliable 4G connection (64.1% of the time). EE also had the fastest download speed (28Mbps).
If 4G isn't available, customers will often drop to the slower 3G network where, in most regions, users were able to get a connection of some sort more than 80% of the time (above 90% in London).
Mobile operators, O2 and Three, both say investment in 2G and 3G upgrades is a priority for them, with O2 having already invested over £2 million in their network.
Superfast, reliable business broadband & data lines are an essential part of your business telecommunications.
Superfast broadband can provide your business with a connection speed of 24Mbps. That means faster download and upload times and a super-efficient Wi-Fi network for your organisation.
Office Phone Shop offer a range of packages designed to give your business the flexibility to grow. We tailor our cost effective business broadband service to suit the needs of your organisation, regardless of its size.
For superfast business broadband and a business standard service level agreement (SLA), contact Office Phone Shop today. We assure a high level of service and attention to detail, delivering a secure and reliable internet service for your business.
For more information call 0800 012 6637 and speak to one of our UK Business Managers.