Siemens Openstage 40 HFA is available to order from Office Phone Shop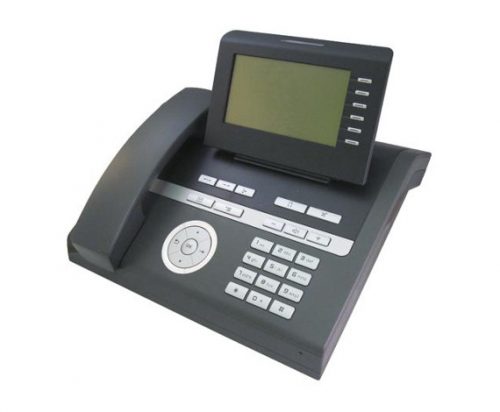 Part of the Openstage family, the Openstage 40 HFA is a high-tech communications device that comes in a stylish design. This makes the Openstage 40 HFA phone the model of choice for businesses requiring an affordable, yet functional business phone, ideal for desk sharing, team working or for a call centre situation.
Openstage phones offer an easy-to-use, intuitive interface with integrated interoperability for connecting to other devices, as well as being multimodal, therefore allowing access to various services and applications.
Features include a six-line, backlit, tiltable, graphical LCD screen, five-way navigation, six programmable sensor keys and seven fixed function keys. The Openstage 40 is also a full-duplex speakerphone, offering hands-free operation and conference calling opportunities. Integrated ports allow for headset addition, Power over Ethernet and the addition of Key Modules, such as the Openstage 40 HFA supports the Openstage Key Module and Openstage Busy Lamp Field.
Features:
·5-way navigation
·6 programmable sensor keys
·7 fixed function keys
·Volume keys
·Tiltable 6-line backlit graphical LCD
·Red call-signalling LED
·12 red LEDs for key signalling
·PoE
·Integrated headset jack
·2 ports 10/100 Base-T built-in Ethernet switch
·Speakerphone
·Microphone
·SIP support
·Wall mountable
Operating on the HiPath Open Office ME and HiPath 3000 telephone systems, the Siemens Openstage 40 HFA offers a range of intuitive features, designed to allow customisation for a wide range of office uses.
Phased out by Siemens/Unify in 2018, Office Phone Shop currently has, on offer, the Openstage 40 HFA, fully remanufactured to an exceptionally high standard, complete with a full, one-year warranty.
The Siemens Openstage 40 HFA is available for TDM, HFA and SIP environments. With Standard-based SIP support, the Openstage 40 also supports Codecs, G.711, G.729AB and G.722.
It comes in two colours: ice blue (S30817-S7402-D101 or L30250-F600-C101) and Lava (S30817-S7402-D103 or L30250-F600-C155).
Office Phone Shop stocks a wide range of new, remanufactured and refurbished Openstage business phones with a full one year warranty on all products.
Contact us to order the Siemens Openstage 40 HFA Phone or call 0800 012 6637.