The Ericsson Dialog 5446 IP is a premium business phone suitable for busy office environments with high call volumes and usage.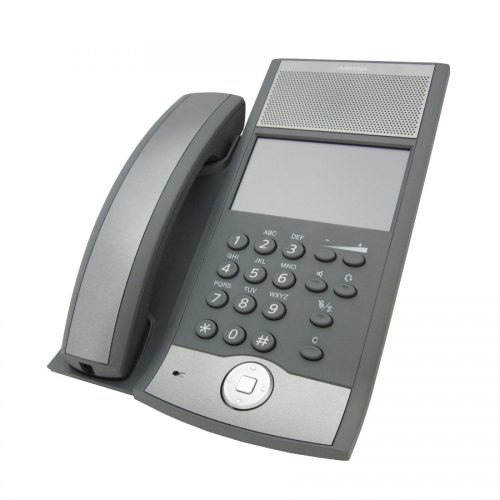 It offers a modern and user-friendly interface, with a large, colour, touch-screen display. This makes for a modern telephone that allows for easy navigation of a full range of features.
Features include web browsing, plus there are self-labelling keys for adding contacts and buddy lists.
The menus of the Dialog 5446 IP are icon-based, similar to that of a smartphone. This makes navigating the features both easy and intuitive. There is a personal phonebook, a handsfree speaker with full duplex Acoustic Echo Cancellation (AEC) and headset port. The Dialog 5446 IP also has volume control and is fully hearing-aid-compatible.
Being able to make full use of all the Dialog 5446 IP's features, along with synchronization with contacts in MS Office Outlook®, leads to significant increases in efficiency. A Gigabit Ethernet switch also allows for unrestricted bandwidth access when linking a Dialog 5446 IP Premium to a PC, for full management of contacts and call logging.
The Dialog 5446 IP Premium supports both SIP1 and H.323 with the same software. This is configurable and set by the system administrator. Support for SIP1 means that the Dialog 5446 IP Premium is fully compliant with the IMS standard.
The Ericsson Dialog 5446IP (part number DBC44601/012-A) is available ON SPECIAL OFFER from Office Phone Shop.
It comes refurbished, fully tested and with a warranty. Read more about warranty, delivery and returns, on the website, as well as our rigorous testing procedures for refurbished and remanufactured telecoms equipment.
Office Phone Shop stocks a wide range of phones, accessories and parts, ready for next day delivery in the UK. Contact us, or call 0800 012 6637 to order.
All Ericsson Dialog IP telephones are recyclable. Office Phone Shop is fully committed to promoting environmental sustainability through the re-use and recycling of waste materials.