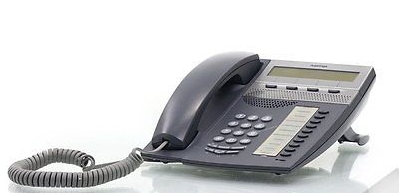 Office Phone Shop has recently completed the full remanufacturing of a large number of Aastra 4223 Dialog business phones in dark grey, to support our client base of MXONE, MD110 and BusinessPhone users.
The Dialog 4223 Professional telephone is suitable for many office environments, including secretaries, supervisors, executives, managers and call centre agents. Features include hearing impaired support, headset port and hands free capabilities with full duplex acoustic echo cancelling. The third model in the Dialog 4000 range of digital phones, the Aastra Dialog 4223 includes 10 fixed function keys and seven programmable feature keys, as well as a large three row graphical, tiltable display screen with four soft keys to navigate through the display.
For additional features, up to four key panels can be attached to the 4223 Professional, each with 17 keys.
Rigorous remanufacturing process
Our comprehensive and rigorous remanufacturing process complies with ISO standards and guarantees equipment has come from a trusted and reliable source. We screen all equipment to ensure there are no counterfeits and all equipment is fully verified, with a tracked product service history.
All equipment is remanufactured with new parts and tested a number of times in a controlled environment. MF Communications is BS EN ISO 14001 compliant as being an environmentally responsible organisation. All parts are responsibly sourced and recycled where appropriate. We perform diagnostic, functional, and network traffic system testing on all remanufactured products. This includes safety and regulatory tests.
Office Phone Shop applies strict quality assurance standards to which all remanufactured equipment must comply.
The equipment is not just polished and made to look in good condition. Our remanufacturing process ensures all products are cleaned and reconditioned to as-new status. This includes replacing casings, hand pieces, buttons, and DESI strips, as required. Firmware and hardware upgrades bring the product up to date with the latest version. What you get is a product in as-new condition, fully tested, boxed and complete with a warranty.
Contact us, or phone 0800 012 6637 now to order your remanufactured, quality guaranteed Aastra 4223 Dialog digital business phones.